Residential Systems

Are you perhaps looking to purchase a piece of property? There are many things that go into the decision-making process when buying a piece of land, but one of the most costly items in your new building will be your septic system (onsite sewage facility). There are many requirements for the proper placing of a system, the foremost of which is the type of soil on the site, and the presence of ground water.

The slope of the site is also a large factor, as conventional, "ground disposal" type systems cannot be used on slopes of more than 10%, which leads to more expensive treatment systems.

Other key elements of the site include such things as existing drainage channels, the presence of surface water, the presence of existing overhead or underground easements, the existence of a well, sharp slopes/breaks, presence of floodplain or floodway, and many other items that require State mandated setbacks. Dealing with all of these items simply adds money to the cost of designing and installing a system.

For a nominal fee, we can visit the site and do a preliminary analysis of what the issues are with a site, and give you some budget numbers.

We do specialize in "unbuildable" or very difficult sites, having designed and constructed systems on extremely steep slopes throughout central and west Texas, with many installations done on primary river banks and creeks.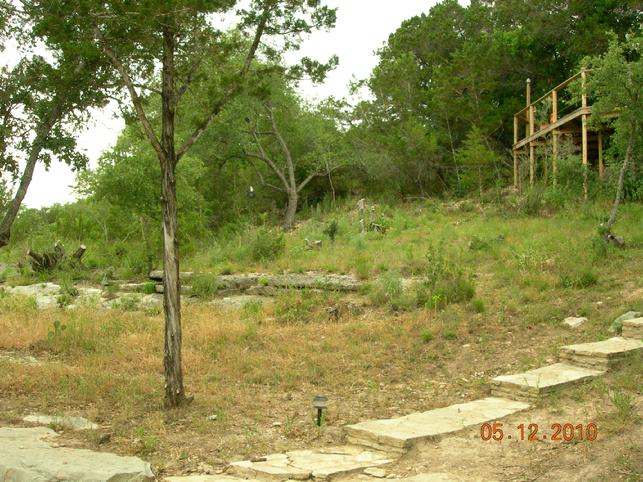 Area on Blanco River, Prior to system installation. This system was engineered in a flood plain.
There are several steps that need to be followed for Residential Systems. We are Licensed Professional Engineers. We can design and/or build any system, anywhere. Let us put our expertise to work for you in our designs and construction, generally following the steps below:
Site Visit
Soil Profile Analysis
Consideration of System Types
System Design
Permit Process
Construction
Operation
See category details listed above, to your left.

Texas Onsite...brought to you by AusTex Development. Copyright 2006-2019. All rights reserved. No part of the content of this site may be copied or reproduced without written permission from the Owner.